Bad news, everyone, and I hate to be the bearer of it, but... :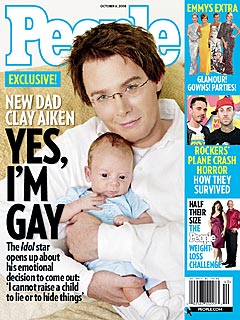 I guess this is sort of going
directly
against his statement in the following interview (
UPDATE
: had to find a new clip... for some reason the last one is no longer available on youtube. Relevant portion begins at about 4:30):
Interestingly,
Part II
of this interview explains a LOT about Clay's identity confusion. Classic Daddy issues. Poor baby. It may
explain
a lot, but it doesn't
excuse
anything.
I heard about this last night, but couldn't believe it until People released the article officially this morning. This news is especially baffling considering his outright denial of homosexual tendencies in a 2003 Rolling Stone article, as well as a chastisement of Diane Sawyer for even asking him a couple years ago. I guess it wouldn't be so disheartening if he hadn't outrightly lied about it numerous times in the past already. The most troublesome thing is the dishonesty. I guess everyone lies now and then, but what is especially problematic to me is the fact that he lied specifically about
this
, and also that honesty is his reason quoted on the cover of the magazine for coming out at all. For those who don't know, the baby, Parker Foster Aiken, is the product of IVF with "friend" Jaymes Foster, a woman who is almost twice Clay's age (reportedly they are raising the child together). Stupid Clay even said something about the baby's future sexuality (saying, it's "already probably up inside the code there") and then goes on to state his own definition of
family
. Clay, is it
really
you??
I mean, I militantly defended this guy. Even as recently as one week ago! This was a man I thought would be in the spotlight and still be able to fight the stereotypes, like he said to Diane Sawyer. Looks like he caved like the most of them. I still think he's talented, but interestingly, my interest in his music was starting to fade anyway. Another example of why depending on famous people will often just leave you disappointed. Time to eat some words, I s'pose. Also, I guess he has a two-part interview scheduled, again, with Diane Sawyer for this week. Looks like he has some words to eat too.
The craziest part about this whole thing is that for years Clay has denied this, and practically nobody believed him. Then with one word he comes out and everyone believes it without batting an eye. So for years, everyone has considered him a liar regarding his sexuality, and then he says one thing (that conveniently goes along with the tabloids and society's rubbish rumors) and everyone believes it? Why should we? He's apparently always lied about it! What's different about this time? Oh yeah, because it's
cool
to be gay, and uncool to not.
Sorry, Clay, but for the last several years, you have lied and hid things, and this outing doesn't make you any more honest. Hopefully your disintegritous legacy won't follow you as you raise your boy.
Others who have recently jumped on the bandwagon, new to my knowledge: Neil Patrick Harris and Lindsay Lohan. Good heav.